The Blog
Results from last night's Ko-Hatsu Tournament.
9 Entries
1) Otochun
2) Gunze
3) Batayan / Tsumura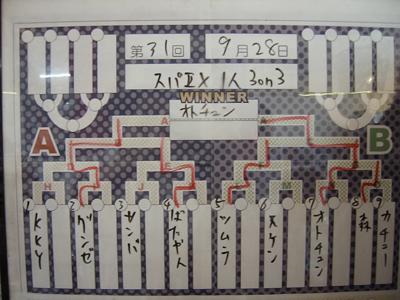 The latest GameSpot Versus East vs West battle from September 23rd courtesy of supersf2turbo. This week features Ito, Bear, Moro, Risty, Fukuyama, Miharu, Numa, Gucchi, Nemo, Koedo, Sashishi, Shal, Hirokawa, Grygla, Hide, Aotsun, Dai, Souzou, Shonen Ninja, Aze, Nakamura, Tera-san, Kusa, Suzuki, yaya, Hustler, Kikai, Seo, Choshu, tomo, Abebin, Yakitori, Hanashi, Kawamata, Tomoza, Kawasim, PECO, VIPER, Koemon, Nikaiten, M.B★, Kotaka Shoten, AFO and Kurahashi!
Results from Hyper Street Fighter 2 Tournament held at Monte 50 last night.  Among the notable players were Jerome (Tsuji), Kachu, Aniken, Gunze, Kusumondo.  Photo courtesy of @aniken0926
16 entrants
1st – Jerome (Tsuji) (Boxer)
2nd – E. Honda (Honda)
3rd – Gunze (Zangief)
優勝 – ジェロムことつーじ@バイソン
2位 – Eホンダ (本田)
3位 -グンゼ @ザンギエフ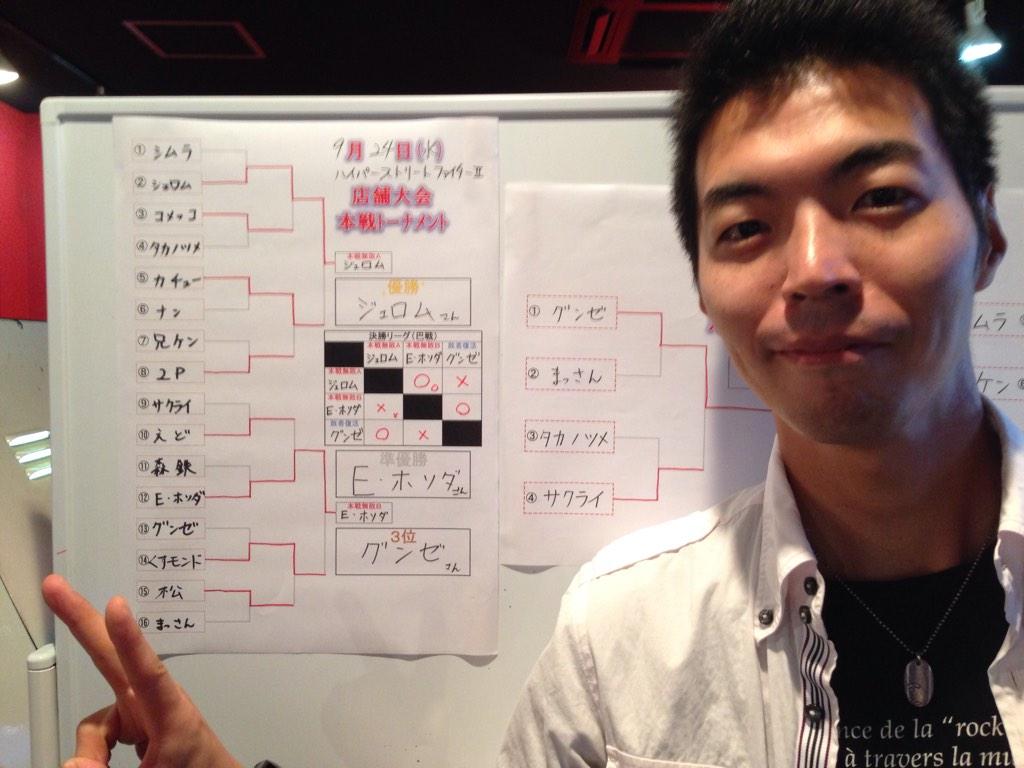 Team  Sertiart3 (Omnislash, TMF, Mattsun) win X-Mania Europe 4, defeating Team UK (Relinquished, Kaosflare, ORF) in the Grand Finals!
Bracket: http://xmania-europe4.challonge.com/3vs3
1st – Team Sertiart3 (Omnislash, TMF, Mattsun)
2nd – Team UK (Relinquished, Kaosflare, ORF)
3rd – Team Les malades (Ukyo, Jago, MAX31)
4th – Team Casseur Flotteur
Mattsun wins X-Mania Europe 3on3 Solo by defeating TMF in the grand finals!  TMF was knocked into the loser's bracket in his first match by MAX31  in the top 8 but battled back to the finals by defeating Kouni, ORF, then running it back against MAX31 and defeating Abdel to face Mattsun. TMF took the set 3-0 against Mattsun and reset the bracket but Mattsun came back strong winning the final set 3-0.  Congratulations to Mattsun!
X-Mania Europe 4 (3 vs 3 team battle) will take place at the main event.
Bracket: http://xmania-europe4.challonge.com/3on3_top8
1st – Mattsun
2nd – TMF
3rd – Abdel
4th – MAX31
5th – ORF
5th – PIERROT
7th – Kouni
7th – Wovou